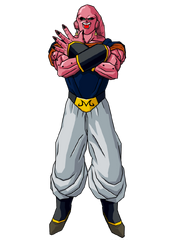 "I am... Ultimate!! Finally!!"
— Buugito when gaining his power
Buugito is the result of Super Buu absorbing Vegito. This is one of the many Buu's ever created, and they became the Rulers of Multiverse. Buugito is said to be stronger than Beerus, or on his level.
Story
The story is pretty much the same, but the difference was that Buu landed an punch on Vegito, stunning him briefly, allowing him to get absorbed.
Multiverse
He appeared in Multiverse, representing former Universe 24, now called Buugitoverse.
Community content is available under
CC-BY-SA
unless otherwise noted.