Neon first appeared during the Android Saga to complete his mission to destroy Vegeta.
Neon is a full blood Saiyan and can raise his power to unbelievable levels.He caused havoc and chaos on the earth until Ultimate Vegeta destroyed him. Neon will be in a new fanfiction soon called Dragonball UW:Neon Saga.
PERSONALITY
Neon has a somewhat cocky personality like Vegeta. Even though he can have a playful personality too he is very brutal and will destroy anyone who gets in his way.
APPEARANCE
Neon has dark black hair with a masculine body.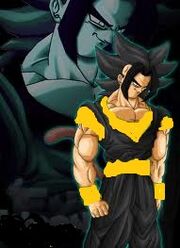 ATTACKS
Neon has brutal attacks that can kill you in a flash. He is known to finish off his opponents with the Destruction Blast. Other moves include:
Eye Beam
Super Explosive Wave
Death Bomb - This attack is known to drain your energy if touched it looks just like a spirit bomb but dark and has negative energy.

Death Gun
Gravity Blast
Death Wave
Grave Blast
Rapid Death Blaster
Death Punisher
Reaper Slash
TRANSFORMATIONS
Great Ape
Super Saiyan
Max Super Saiyan
Max Power