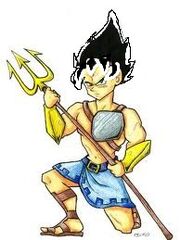 PLANET GOUKEN
WAS NAMED BY GOUKEN THE YOUNGER BROTHER OF SETH AND GOUKEN WAS THE KING OF THE PLANET AFTER THE GLADIATOR BATTLE. SO MANY FIGHTER JOINED THE BATTLE LIKE ZARBON, HE TRIED TO FIGHT GOUKEN BUT GOUKEN GOT ANGRY AND BLASTED HIS HEAD OFF WITH A KAMEHAMEHA AND,NAPPA WAS ALSO KILLED BY GOUKEN.GOUKEN KILLED A WAVE OF VILLIAN THEN HE MET HIS QUEEN GEM AND THEY RULED THE PLANET.
Community content is available under
CC-BY-SA
unless otherwise noted.