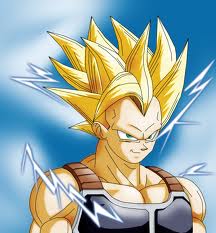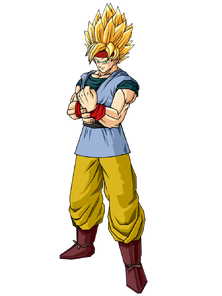 This form is a bit different than the normal Super Saiyan form. The hair is more spiked up than a Super Saiyan 2, the form has a bigger power increase than the normal Super Saiyan form and there is a completely different way to obtain it. Nearly every single Dragon Ball X character has achieved this form. This form is succeded by Super Saiyan 2 and is the successor of the user's Base Form.
Appearance
Hair: Gold with brown tint. Spikes up to middle.
Aura: Yellow/Gold with bolts of gold ki surrounding it.(Not in the picture)
Tail: None.
Power
Strength: 2,500 tons
Speed: 25,000 miles per hour
Durability: 500 megatons (500 million tons)                           
How To Obtain
First, the user must train for around 45 minutes non-stop. After this, the user starts to feel a sparkle of Super Saiyan energy. From here, the user must concentrate very hard and then suddenly feel a massive surge of energy. This is the start of the transformation. While the user is still concentrating, the energy gradually starts to get more powerful. Then, after about 20 seconds, the surge of energy will be strong enough to release the energy upon itself  allowing the user to finally complete the transformation.
Attacks
Super Kamehameha
Golden Shockwave
Black Hole Attack
Nano-Teleport
Super Saiyan Finish
Ki Blast
Ki Missile
Parent and Child Kamehameha
Mad Kamehameha
Final Shine
Final Flash
Solar Flare
Thunder Flash
Death Beam
Continous Ki Missile
Spirit Bomb
After-Image
Dragon Fist
Users Feron
Vegeta
Goku
Gozon
Gohuken
Epsilon
Vegeton (Fuse of Vegeta and Feron)
Gokon (Fuse of Goku and Feron)
Merino
Arax
Varon
Elan
Faron (Fuse of Feron and Varon)
Ferax (Fuse of Feron and Arax)