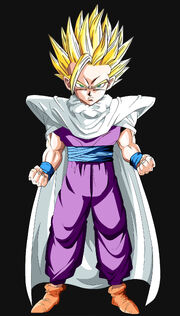 This form is pretty much the same as a normal Super Saiyan 2, but the hair is longer and more spiked up and is more powerful than a normal Super Saiyan 2. The form is the successor of Super Saiyan and is succeded by Super Saiyan 3.
Appearance
Hair: Gold with brown tint. Spikes up in all directions.
Aura: Static bolts of blue ki surrounding the user.
Tail: None
Power
Strength: 5,000 tons
Speed: 50,000 miles per hour
Durability: 2,000 megatons (2 billion tons)
How To Obtain
First, the user must be in the Super Saiyan form. The user also has to train in the
Super Saiyan form for 1 hour non-stop with 1 month of training before. The user must then concentrate very hard and they'll start to feel a surge of energy greater than that of a Super Saiyan. The energy will then after around 25 seconds collapse upon itself to initialize the transformation. The transformation will then be completed 2 seconds after the energy has collapsed on itself. The transformation process is pretty much the same as a normal Super Saiyan, but it's worth it.
Attacks
Super Kamehameha (x2)
Parent and Child Kamehameha
Mad Kamehameha
Black Hole Attack
Golden Shocwave (x2)
Final Flash
Final Shine
Ki Blast
Ki Missile
Nano-Teleport
Super Saiyan Finish
Continuous Ki Blast
Continous Ki Missile
Mixed Ki Wave
Wipeout
Speed of Light Attack
Spirit Bomb
Dragon Fist
Engergy Barrier
Fusion Dance
Transform
Hyper Tornado
Hyper Blast
Supernova
Solar Flare
Super Thunder Flash
Death Beam
Users
Vegeta
Goku
Gohuken
Gozon
Merino
Arax
Varon
Elan