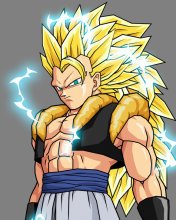 This version of a Super Saiyan 3 is pretty much the same as a normal Super Saiyan 3, but in this version the user will need less training to achieve it and it is much more powerful. This form is all about physical stamina, so they user can travel for maybe months without breaking a sweat.
Appearance
Hair: Gold with brown tint. Spike up in all directions and is very long
Aura: Massive golden flame-shaped aura with blue sparks of ki surrounding it (Not in the picture)
Tail: Some Dragon Ball X characters have tails as a SSJ3
Power
Strength: 20,000 tons
Speed: 100,000 miles per hour
Durability: 80,000 megatons (80 billion tons)
How To Obtain
First, the user must be a Super Saiyan 2. The user also must have trained as a Super Saiyan 2 for at least a total of 2 years and have fully charged ki before the transformation. The user will not have to concentrate to achieve the form, because after the 2 years of training, they'll be a power inside of the Super Saiyan 2 that will gradually grow bigger for a period of around 2 days. After this amount of time the power will grow strong enough to collapse upon itself and release a massive explosion. At this time the user (not on purpose) gives a large emotion upheaval, because of the power surge. Then the user will be transformed. After the user has transformed for the first time, the transformation can much more easily be re-obtained as a Super Saiyan 2 at any point.
Attacks
Super Kamehameha x4
Black Hole Attack
Death Beam
Ki Blast x4
Ki Missile
Continous Ki Missile
Spirit Bomb
Dragon Fist
Supernova
Energy Barrier
Fusion Dance
Hyper Tornado
Hyper Blast
Nano-Teleport
Parent and Child Kamehameha
Deadly Bomb
Final Shine
Final Flash
Golden Shockwave x4
Solar Flare
Thunder Flash
Transform
Users
Vegeta
Goku
Gohuken
Gozon
Merino
Varon
Arax
Elan
Epsilon