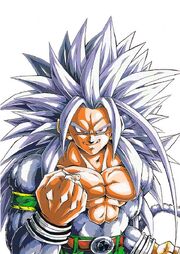 Super Saiyan 5 is the 5th form of Super Saiyan. It's the successor of Super Saiyan 4 and is succeded by Super Saiyan 6. This form is all about durability. This form has lots of it!
Appearance
Hair: Grey/white with black and very dark blue tint. Spike up in all directions and is very long.
Aura: Plain White
Tail: Grey/white and furry
Power
Strength: 4 megatons (4 million tons)                                                                   
Speed: 4 million miles per hour
Durability: 20 million megatons
How To Obtain
First, the user must be a Super Saiyan 4. The user must also have to go through 3 years of vigourus training as a Super Saiyan 4 and must have all the Namek Dragon Balls to wish for the form. Once the user has summoned the Namekian Dragon, the user can then wish for the form and they'll be transformed instantly. If the user hasn't trained for 3 years as a Super Saiyan 4, they will either die because of not being able to control the power or the transformation will fail.
Attacks
White Shockwave
True Kamehameha
Devastator
Super Strength Finish
Instant Teleport
Thunder Flash
Supernova
Spirit Bomb
Deadly Bomb
Solar Flare
Killer Ki Blast
Ki Missile
Giga Tornado
Giga Blast
Parent and Child Kamehameha
Final Flash
Final Shine
Transform
White Hole Attack
Death Beam
Manipulation
Users
Vegeta
Goku
Gohuken
Gozon
Epsilon
Arax
Merino
Varon