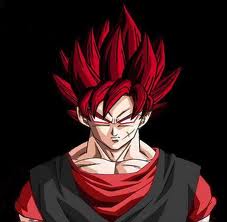 This Super Saiyan 6 form is a massive step from Super Saiyan 5. The strength, speed and durability has a massive power increase from the Super Saiyan 5 form. It is the successor of Super Saiyan 5 and is succeded by Super Saiyan 7. In this, the user forgets about friends and family and keeps 100% focus on the enemy/target.
Appearance
Hair: Dark red with black tint. Hair shape just like a Super Saiyan's
Aura: Dark red with black bolts of ki surrounding it (not in the picture)
Tail: Dark red (not in the picture)
Power
Strength: 200 megatons (200 million tons)
Speed: 200 million miles per hour
Durability: 100 million megatons
How To Obtain
Completing this transformation is pretty simple. First the user has to be a Super Saiyan 5. From here the process is hardly complex at all. All they have to do is go through huge amounts of rage as a Super Saiyan 5 until dark energy overcomes the user and transforms while full of rage. It's the same transformation technique as a Super Saiyan 4, apart from that you need much more rage to transform.
Attacks
Black Hole Attack
Dark Supernova
Dark Shockwave
Solar Flare
Phantom Bomb
Mega Ki Blast
Ki Missile
Terror Tornado
Terror Blast
Death Beam
Manipulation
Instant Teleport
Ultra Kamehameha
Devastator
Super Strength Finish
Thunder Flash
Final Flash
Final Shine
Transform
Users
Vegeta
Goku
Gozon
Gohuken
Arax
Varon
Epsilon