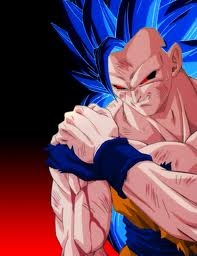 Super Saiyan 7 is a very powerful form. It is also very, very hard to control. The user must have a lot of practice and transform into it a lot to start getting used to it. It is also one of the most terrifying looking of all the Dragon Ball X forms.
Appearance
Hair: Glowing cyan with black and dark blue tint.
Aura: Black and red surges of ki.
Tail: None
Power
Strength: 20,000 megatons (20 billion tons)
Speed: 20 billion miles per hour
Durability: 10 billion megatons
How To Obtain
The power of this form is like pure evil. So the way to achieve it is that you first must achieve Heartless Super Saiyan Level 5 when you were first in a Super Saiyan 6 to get extra power. The user must also have gone through vigorous training for at least 6 years in total. If all this has occured, the user will release a massive black and red explosion after a few seconds and complete the transformation.
Attacks
Black Hole Attack
Evil Supernova
Evil Shockwave
Solar Flare
Phantom Bomb
Giga Ki Blast
Ki Missile
Evil Tornado
Evil Blast
Death Beam
Manipulation
Instant Teleport
Ultimate Kamehameha
Devastator
Super Strength Finish
Thunder Flash
Final Flash
Final Shine
Transform
Users
Vegeta
Goku
Gozon
Gohuken
Arax
Varon