The wiki based on Akira Toriyama's manga and anime, Dragon Ball, Dragon Ball Z, Dragon Ball Super, and all varieties of it. Except, this wiki is for fan content & art of the Dragon Ball franchise. to view the wiki for the official content, please visit, Dragon Ball Wiki. We share a welcoming and peaceful community here. So enjoy your stay. And by the way, feel free to add a new page if you'd like. We are currently hosting 225,337 edits and 6,628 articles since 2011.
We highly suggest using this wiki in dark mode!!

Statistics • Guide & Rules • Recent Articles & Changes
Discover Articles
Check out the most amazing fan content any Dragon Ball fan wiki could have! And that's on here! Also, we don't only share art and fan characters, but power level estimates and form multipliers for the original series aswell!
Meet the Community
Administrators
Top Article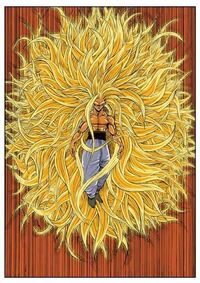 Super Saiyan Infinity
The infamous and most ridiculous transformation ever known in the Dragon Ball community! See it here.
Recent Blog Posts
{{{Contents}}}